Founded in 1953, Ivas is the group parent company and has a UNI EN ISO 9001 certified quality management system. The Ivas product range consists of processes and systems for protecting, restoring, insulating and decorating buildings. The company's philosophy focuses on a simple concept: "High quality first and foremost". The company, which boasts the highest quality standards in the sector, is currently made up of 5 divisions that operate in synergy to provide a comprehensive service to all of its partner clients in the building sector.
LEARN MORE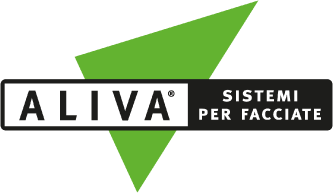 Aliva, a UNI EN ISO 9001 certified company, develops customised solutions for the ventilated façades sector in response to specific requests and problems, by engineering and constructing all kinds of architectural concepts in the field of building envelope design. A strong commitment to the "tailored" approach is combined with a vast catalogue of original solutions, tried and tested in over thirty years of direct on-site experience: a know-how employed in the service of "made-to-measure" design, for finely tailored solutions to clothe the most daring of projects.
visit website
Founded in 2022; Ivas Iberica is an innovative distribution hub for the Spanish territory with the aim of consolidating the positioning in a strategic market, where Ivas SpA has been present commercially for years and already a member of ANFAPA y SATE.
The focus is to strength the link with current Spanish customers, to improve the distribution process in the whole peninsula and the offer of a more structured commercial-technical assistance.
LEARN MORE