TermoK8 ® grafite - Ivas
seo titolo secondo
TermoK8 ® grafite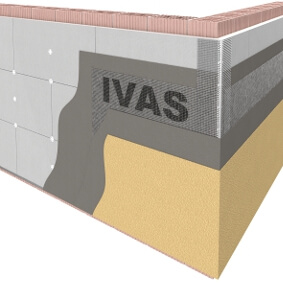 The ideal option for guaranteeing very high thermal performance, through the use of graphite particles, able to absorb and reflect infrared, thus neutralizing the negative effect of heat irradiation on thermal conductivity. Particularly suitable for upgrading the energy efficiency of existing buildings, with a low thickness it provides thermal insulation values higher than in traditional solutions.
System for high
thermal
insulation

System with
limited
thickness

System easy
to install
In collaboration with

Certificates
Technical Documents
System Composition
ADDITIONAL COMPONENTS: depending on the type of support and critical issues of each building, for the correct application of insulation systems TermoK8 various additional components (shown below) are needed to complete the steps above.
System Components
Additional Components
Ivas Industria Vernici Spa
Via Bellaria, 40
47030 San Mauro Pascoli (FC) - Italia
ph. +39 0541 815811
fax +39 0541 815815
---